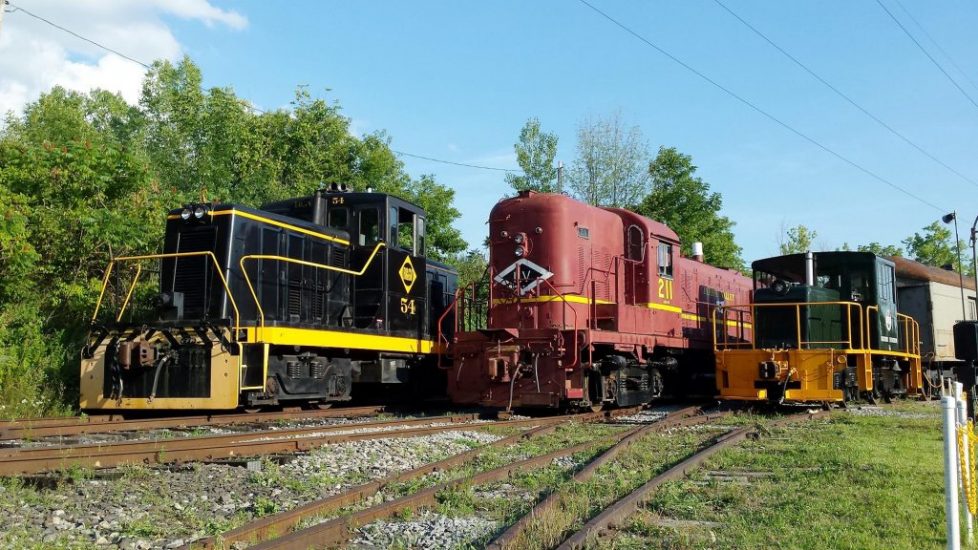 The Rochester & Genesee Valley Railroad Museum is home to the largest collection of historic trains and operating vintage diesel locomotives in New York State! The majority of our collection is connected to railroads or specific trains that served the Rochester area. Here are some of the vintage locomotives and cars you're likely to ride on during your visit, depending on schedules and availability.
DIESEL LOCOMOTIVES
Rochester & Genesee Valley 54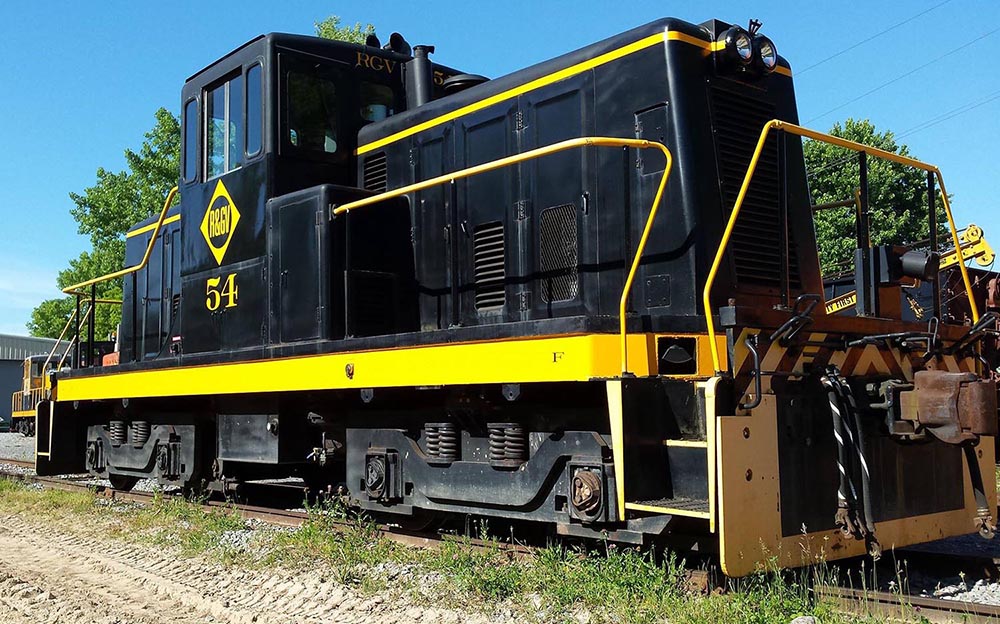 Originally built for the U.S. Army in 1959, this General Electric 80-ton diesel-electric switch engine was completely rebuilt to like-new condition in 1989. It was last assigned to the Susquehanna Army Depot in New Cumberland, Pa. It was declared surplus in 1999 and purchased by our museum to help take the strain off our other historic locomotives. In 2016, the locomotive was transformed into Rochester & Genesee Valley Railroad No. 54, in tribute to similar switch engines operated by the Erie Railroad.
Rochester Gas & Electric 41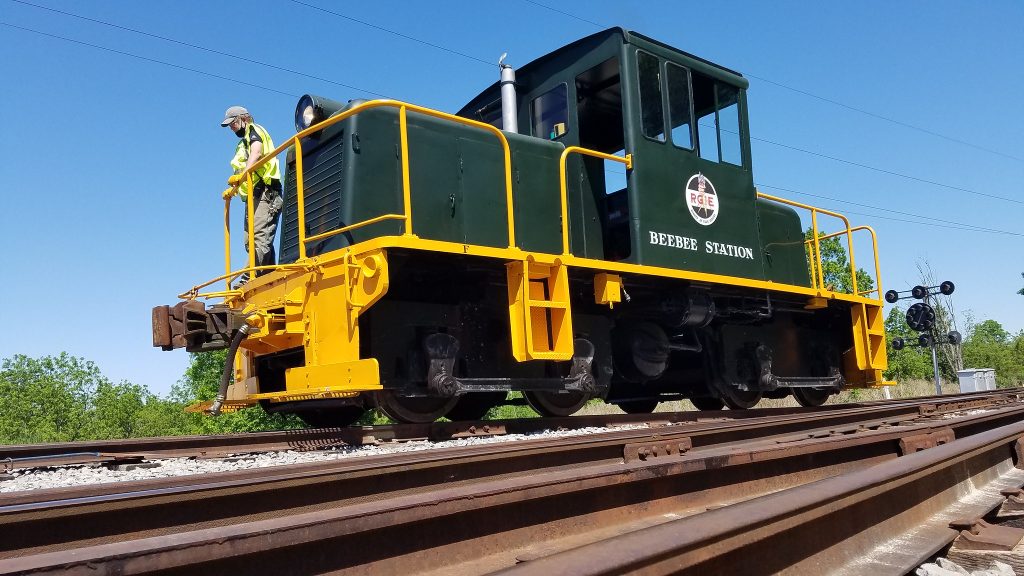 The oldest operating diesel-electric locomotive in our fleet was built by General Electric in 1941. This 45-ton switcher was designed to work in industrial settings, moving heavy loads at slow speeds. After working at a New Hampshire paper mill for many years, it was purchased by the fledgling Livonia, Avon & Lakeville Railroad in 1964. In turn, it was sold to Rochester Gas & Electric in 1965 where it was used to move coal cars at the BeeBee Station steam generating plant in downtown Rochester until 1991. It was donated to our museum, and rebuilt and restored by our volunteers in 2012.
Livonia, Avon & Lakevlle 20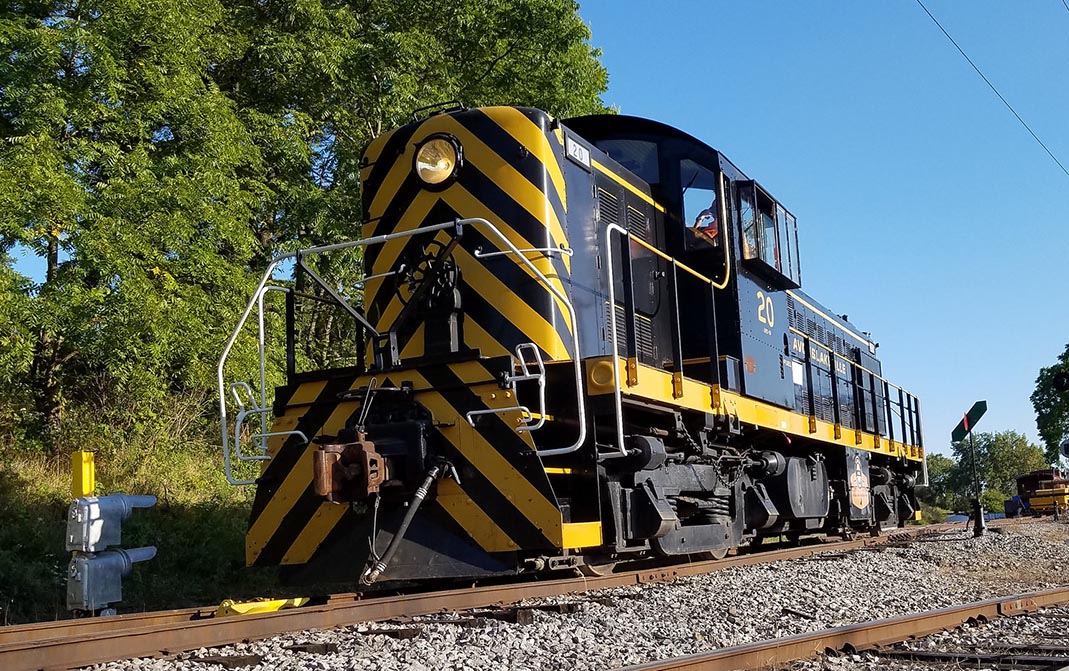 Built by American Locomotive Co. (Alco) in Schenectady, N.Y., in 1949 for the Lake Erie, Franklin & Clarion Railroad in Pennsylvania, it was sold to Livonia, Avon & Lakeville in 1972. Designated a "road-switcher" for its ability to haul trains on the main line or switch cars in a freight yard, more than 400 units were manufactured for railroads across the United States and Canada, forcing the retirement of smaller steam engines performing the same duty. Only about a dozen of these early diesels have been preserved, with LA&L donating No. 20 to our museum at the end of 2016.
---
CABOOSES
Erie Railroad C254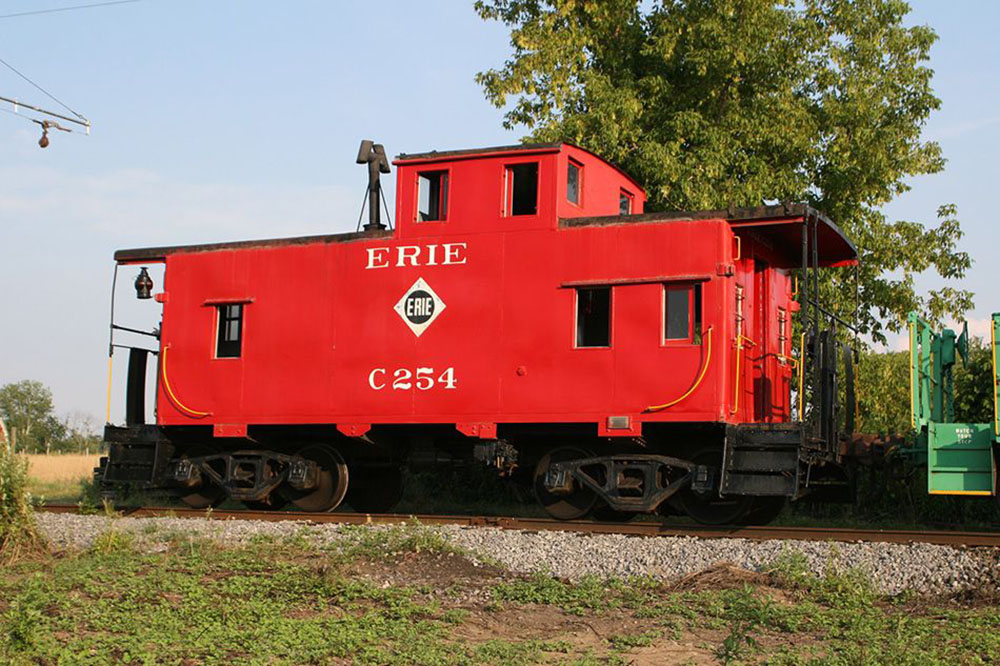 One of 100 similar cars constructed by the Erie Railroad in this shops at Dunmore, Pa., C254 was built in 1946 and featured a welded all-steel body. Immediately after the end of World War Two, the railroads worked hard to replace older wood-bodied cars with steel ones that were more resilient and able to protect the crew in case of a wreck. This caboose continued to serve train crews until the railroad was acquired by Conrail in 1976. This caboose was retired and donated to our museum in 1985. It was restored by our volunteers to its 1950s appearance in 1994, and is in regular operation on our museum railroad.
New York Central 19877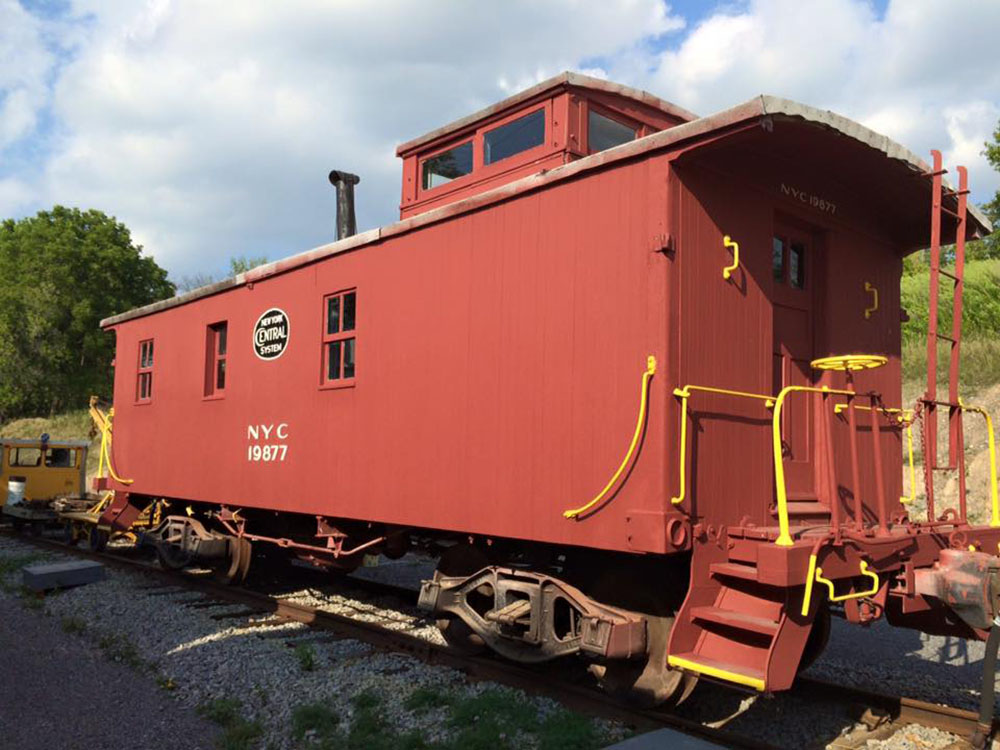 Built in 1921 at the New York Central car shops in Oswego, N.Y., this caboose has a wood body resting on a steel under frame. Part of a group of 115 numbered 19001 through 20082, these cars could be found on the rear of freight trains through the late 1960s. Even as newer steel cars were added to the fleet, this particular caboose would hang on in regular service until 1972. It was purchased by a private individual and moved to Williamson, N.Y., where it sat until 1987 when it was donated to our museum. It was restored and returned to service in 2015, and is in regular operation on our museum railroad.
Buffalo, Rochester & Pittsburgh 280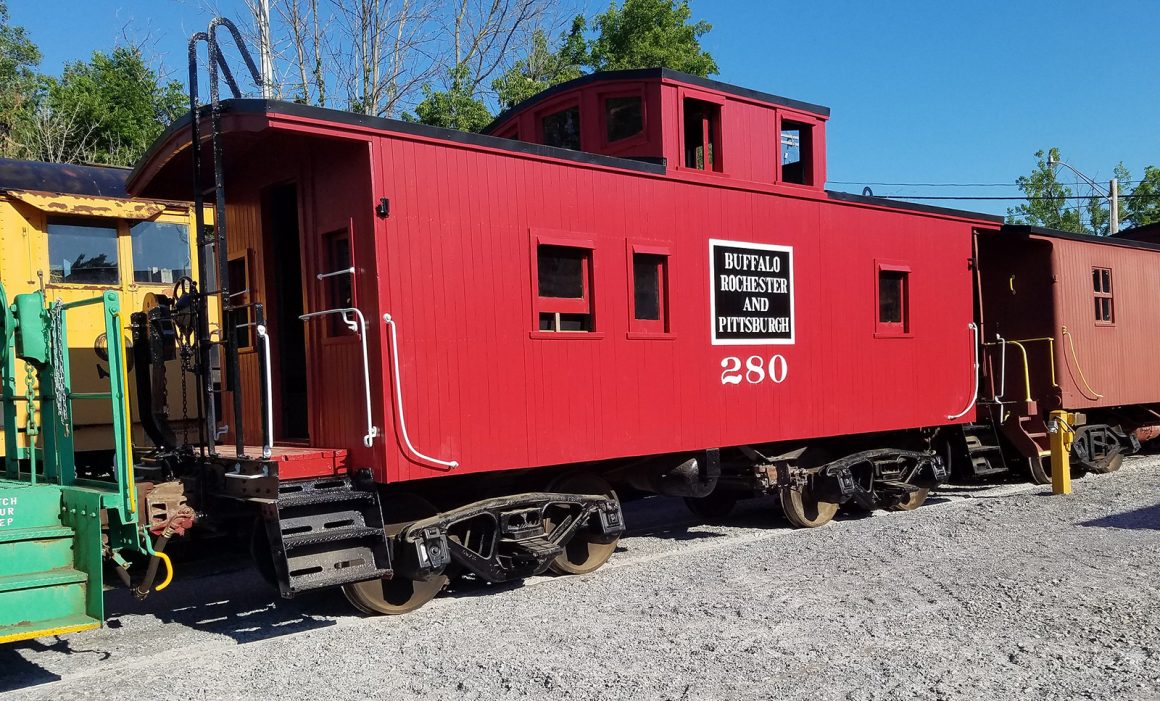 As the story goes, a few local businessmen met in nearby Wheatland to organize a railroad to connect Rochester with the rich coalfields of Pennsylvania. This venture became the Buffalo, Rochester & Pittsburgh Railway, connecting its namesake cities and hauling coal to feed local industry. Caboose 280 was part of a group of 66 cabooses built by the Standard Steel Car Co. in 1923. This wood-bodied car resting on a steel underframe would remain in active service until 1974. It was donated to our museum by Chessie System in 1977, and was the first train to be put on display at our museum in 1979. In 2020 this caboose emerged from an extensive multi-year rebuilding and restoration and is in regular service on our museum railroad.
Penn Central 18526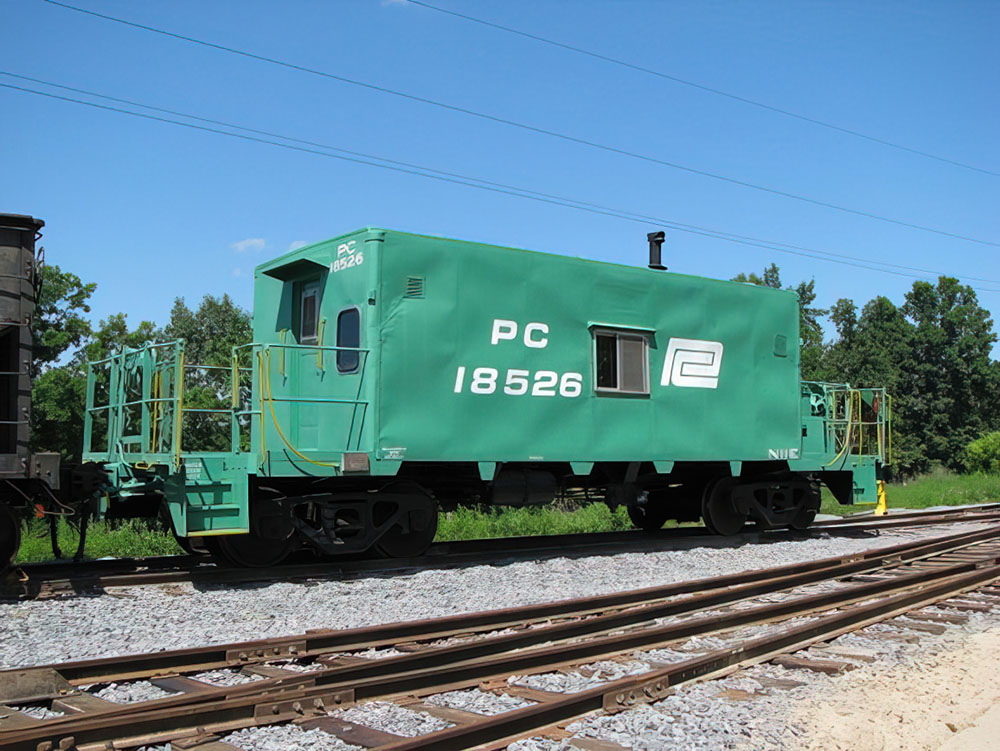 The newest and most modern car in our fleet was built in 1969 at Despatch Shops in East Rochester, N.Y., part of a group of cars built for Penn Central. Called a "transfer" caboose, these cars could be found on the ends of freight trains making short trips from one yard to another, or working a local freight not traveling long distances. The extra wide platforms helped the switch crews in their work, and are a favorite viewing spot for our visitors. Conrail donated this car to our museum in 1996, and it was restored to its as-built appearance in 2002. This caboose can be found in regular service on our museum railroad.
---
OPEN-AIR CAR
Lowville & Beaver River 23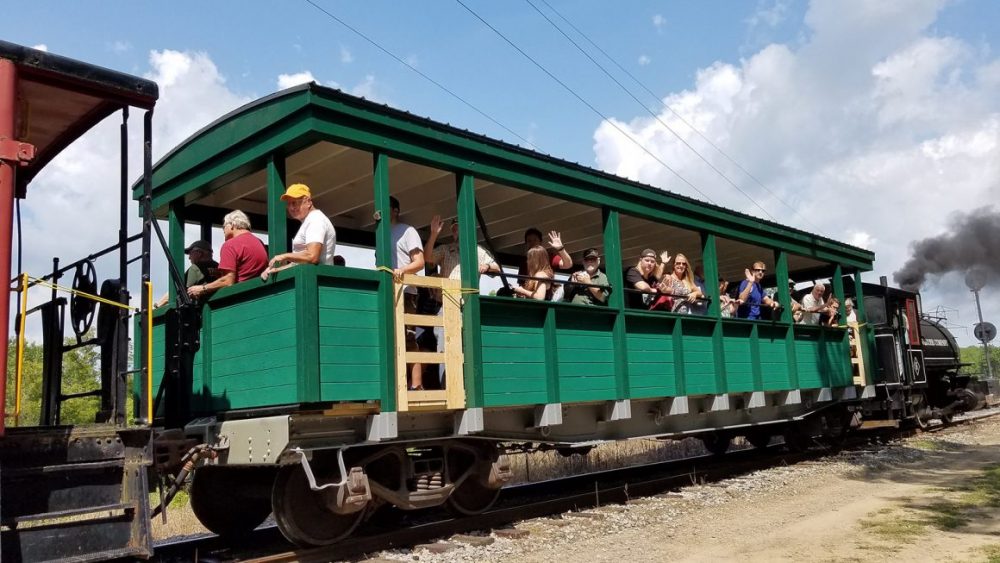 Our Open-Air Car was designed and built by our volunteers to allow visitors to enjoy all the sights and sounds of railroading. Built on top of an old flatcar manufactured for the U.S. Army in 1944 and last used on the Lowville & Beaver River Railroad, our Open-Air Car features long bench seating and unobstructed views of the passing scenery. A roof overhead protects you from the sun, and the open sides allow you to enjoy the fresh air. There is no bathroom on the train, but facilities are available at both ends of the ride. We designed this car for ease of boarding, with wide stairs, convenient handrails, and smaller steps that are preferred by those with mobility issues.