Thank you for your interest in visiting the Rochester & Genesee Valley Railroad Museum! We are the only operating railroad museum in New York State offering fun, all-ages train rides from June through December. Below are the answers to questions most often asked by our visitors…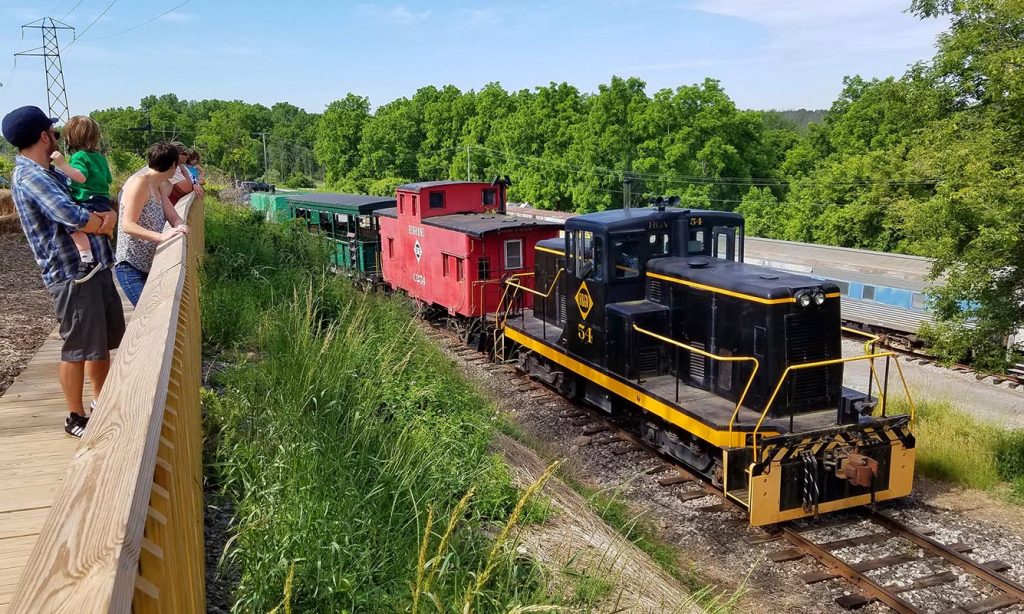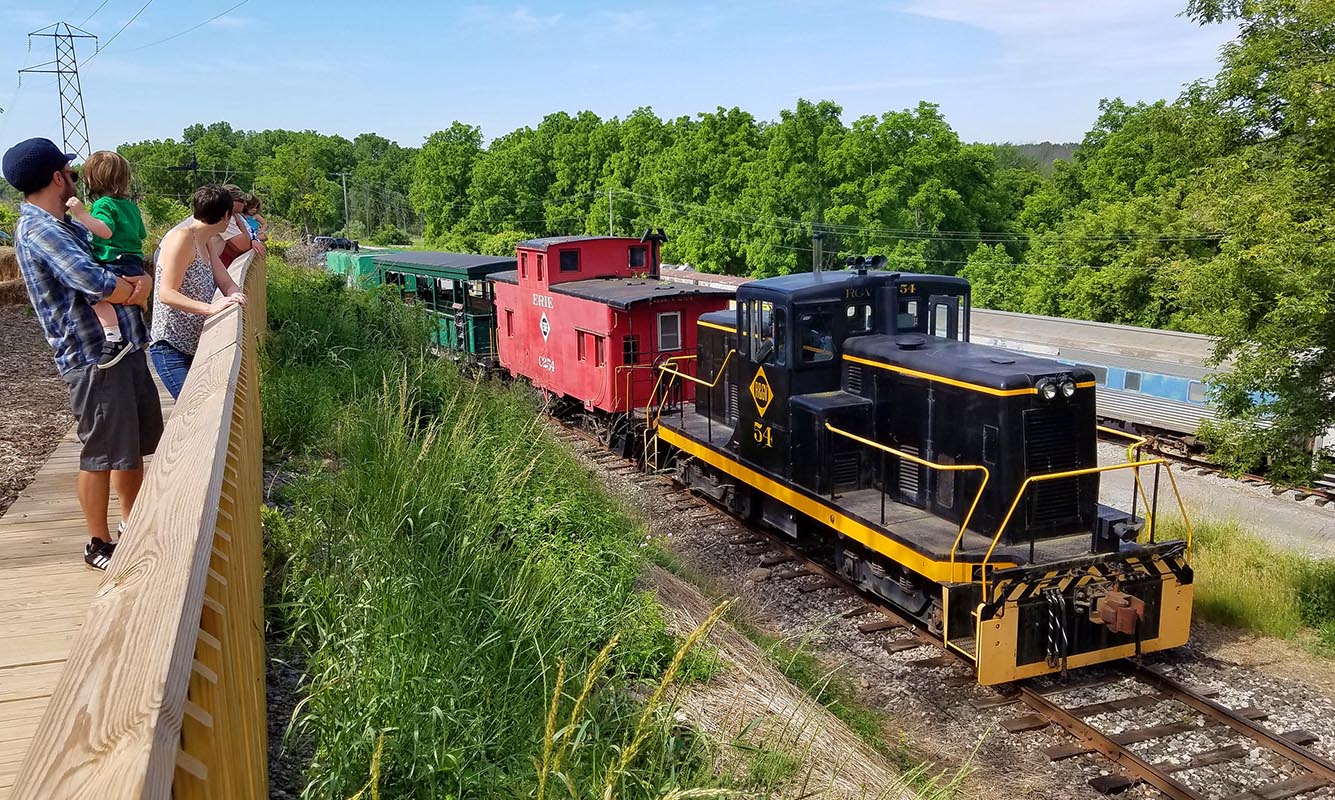 When are you open?
The Rochester & Genesee Valley Railroad Museum is open for special events on weekends only from June through the end of October. Please see our Events Schedule for details. Weekday visits can be scheduled as private group tours as well.
Where are you located?
The Rochester & Genesee Valley Railroad Museum is located in the Town of Rush, just 20 minutes south of downtown Rochester, New York. All trains depart from Industry Depot, which is located at 282 Rush Scottsville Road, Rush, NY 14543. We are easy to find on Route 251 from Exit 11 off I-390.

Is the museum appropriate for young children?
Yes! We always welcome our young train fans as long as they are supervised by an adult.  You are also welcome to tour our museums at your own pace, tailoring your visit to your child's specific interests.
How long is the ride?
Your trip begins at our beautifully restored 1909 train station located at 282 Rush-Scottsville Road (Route 251). Enjoy a mile-and-a-half round-trip train ride through our bucolic museum grounds aboard our restored vintage freight cars and cabooses. Tour museum exhibits at both ends of your ride, and take a peek behind the scenes inside our Restoration Shop. Restrooms are located inside the depot. Porta-pottys are located next to the Restoration Shop. Make sure to visit our gift shop inside the depot for souvenirs and snacks.
Where can I buy tickets?
You can purchase your tickets online through Eventbrite. Reservations are required.
I have mobility issues. Are the museums and train rides wheelchair accessible?
Crushed gravel walkways cover most of our museum grounds. Some exhibits and displays require climbing steps. Due to the vintage nature of our railroad equipment (and the fact that they were not  designed for passenger use), our train rides are not wheelchair accessible. We are happy to assist with boarding whenever possible, and you may bring canes, walkers, and wheelchairs onboard. Please contact us if you have special needs and we will do our best to accommodate you.

Can I bring pets?
No. To ensure the comfort and safety of all of our visitors, pets are not allowed on the museum grounds or on board our trains, with the exception of certified service animals.
How should I dress?
Since the majority of our museum experience is outdoors, you'll want to dress comfortably for the weather. Shirts and shoes are required. For your comfort and safety, we strongly suggest wearing closed-toe shoes (no sandals, flip-flops, or high heels).
Do you serve refreshments? Can I pack a picnic?
Yes. Snacks, soft drinks, and water are available for sale. We also invite you to pack a picnic and enjoy any of the provided outdoor seating spaces on our museum grounds. There are also a number of great dining options located nearby.

Where can I find information about riding trains to New York, Toronto, or Chicago?
Amtrak provides nationwide long-distance passenger train service from Rochester to points all across the United States, including connections to Canada. Call 1-800-USA-RAIL or visit their website at amtrak.com.
Do you do group tours, charters, or parties?
Yes! From private group tours to birthday parties to train charters to school field trips and more, we have event packages suitable for all age and interest levels. Let us help you plan your special event or group outing! Please contact us for details.
Do you have any steam locomotives?
Yes. We have two small steam locomotives in our museum collection. Unfortunately, both are in storage pending restoration and are not open to the public.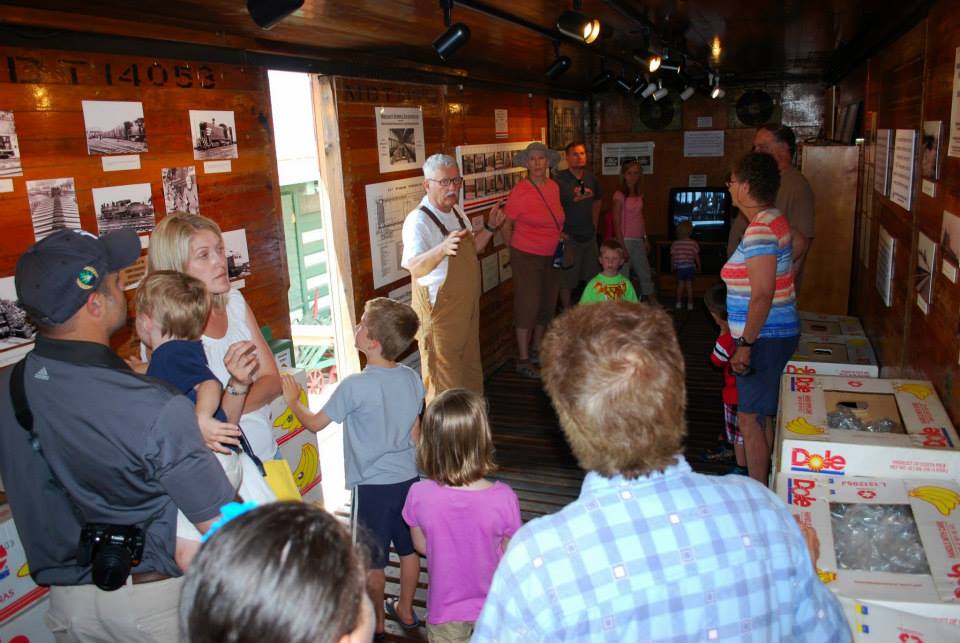 Are you funded by the state?
No. We are a privately-operated museum, and the majority of our operating funds comes from museum admissions and private donations. All of the money we collect is invested in the maintenance and growth of our museum. We thank you for your support!
I want to get involved! Do you have any volunteer opportunities?
Yes! Our museum depends on volunteer help for everything from selling tickets to running trains to mowing the lawn to administrative tasks and more. Volunteering is also a great way to earn Community Service credits for school. Please contact us with your specific interest and we will get you started!

My relative worked for the railroad. Do you have any railroad employment records?
No. Unfortunately, our museums do not have any kinds of railroad employment records. You'll want to contact the Railroad Retirement Board to research individuals employed by the railways after 1936.
Are you offering trolley rides?
No. Due to circumstances beyond our control, we are unable to offer any trolley rides at this time. All trains are powered by our fleet of vintage diesel-electric locomotives, pulling our collection of  authentically restored freight train cabooses.

I couldn't find the answer to my question, how do I get in touch with you?
If you could not find the answer to your question here, please feel free to contact us, and a representative will respond as soon as possible.
Please understand that the Rochester & Genesee Valley Railroad Museum reserves the right to substitute equipment or modify schedules at any time. We are operated entirely by volunteers as a registered 501(c)3 non-profit educational organization. We thank you for your support.